A Beautiful Beginning  
At the North End
Welcome to 61st Street, a lovely Oceanside community at the North End of Virginia Beach. Located in the best part of the Oceanfront, the homes on this street are part of a larger residential area, yet with the privacy that more secluded beaches have to offer. 
Available Homes
Our homes in this area are individually unique, and are crafted with quality, style, and care. Zoned for Linkhorn Park Elementary, Virginia Beach Middle, and Frank W. Cox High School, the area schools offer the same caliber as the beautiful communities they draw from. With three properties currently available in the area, the spacious floor plans and coastal design of the homes on this street are bound to catch your eye. 
1. 115 & 116 61st Street

This duplex is nothing short of elegant with its wood flooring, walk-in pantry, and custom shelving. The First Landing model provides plenty of room for your family, friends, and any other guests that want to experience life a few houses down from the beach. With 4 bedrooms and 3.5 bathrooms in 2,642 square feet of space, these homes offer plenty of possibilities for a range of family needs. The main living areas of the house are located conveniently on the second floor as a central place for the family to come together for meals, laughs, and endless time together. With three first floor bedrooms and a master suite on the third floor, these homes offer convenience for guests as well as privacy for owners. For optimal enjoyment of the best the beach has to offer, these homes also include a rooftop deck to take in the lovely view from sunrise to sundown.
2.  117 61st Street 
This single family home includes 4 bedrooms and 3 bathrooms laid out over 3,521 square feet of open space. The three-floor Cape Henry model is exquisite, with features that cultivate comfort and a seaside aesthetic. Built to maximize the proximity to the beach, this home also incorporates a rooftop deck, as well as a private deck off of the master suite – which is a true luxury in itself, featuring walk-in closets and a gorgeous bathroom. The second floor's living area and pristine kitchen are open to accommodating everything from family meals to events with friends and loved ones. Built with your experience in mind, this home captures the beauty of the ocean living and moments to come.  
The Area
61st Street is a natural oasis, with access to quieter parts of the beach, as well as the lovely trails and natural elements that First Landing State Park provides. This area is scenic and exciting, with endless activities to enjoy the outdoors and time with others. From hiking park trails to biking and walking the Oceanfront boardwalk, there are many opportunities to enjoy the beauty of the North End of Virginia Beach. Located by the Princess Anne Country Club as well as other key Oceanfront restaurants, coffee shops, and attractions, this community promises to entertain all of your family's interests and will pleasantly surprise you with its exceptional qualities.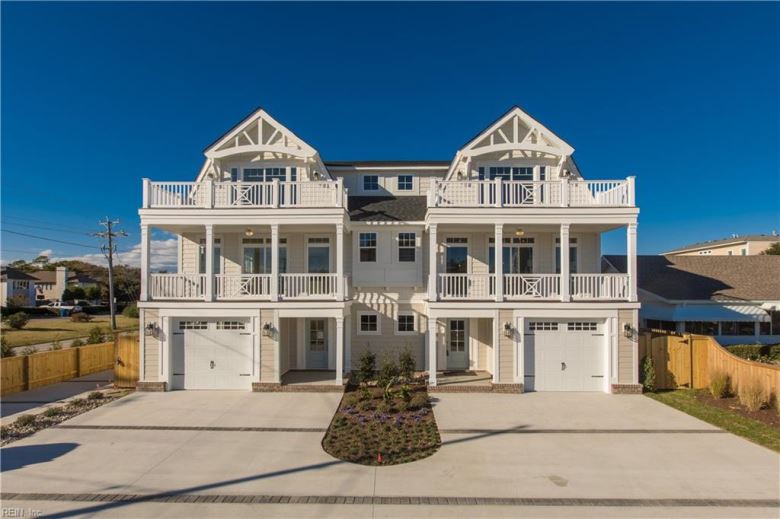 Don't just take our word for it, see for yourself! Watch this walk through and this drone's eye view of the area to see what makes these homes so special. More detailed, community-specific information can be found on our website at www.bishardhomes.com.